I'm sure many of us have wondered if wireless speakers are as good as the wired ones. After all, it's so much easier to just connect your device wirelessly and start playing music right away! But is convenience worth sacrificing sound quality?
In this article, I'll be exploring whether or not wireless speakers can truly measure up to their wired counterparts. We're going to take a look at both sides: from sound clarity and performance to compatibility and convenience. We'll also consider some possible drawbacks that come with using wireless technology.
By the end of this article, you should have a better understanding of which type of speaker best suits your needs.
Sound Quality
I've been a fan of sound systems for years, and I've tried out both wired and wireless speakers in the past. When it comes to audio clarity, there's no doubt that wired connections are more reliable than their wireless counterparts. Since they're physically connected from one device to another, you don't have to worry about signal interference or poor quality sound when using a wired connection.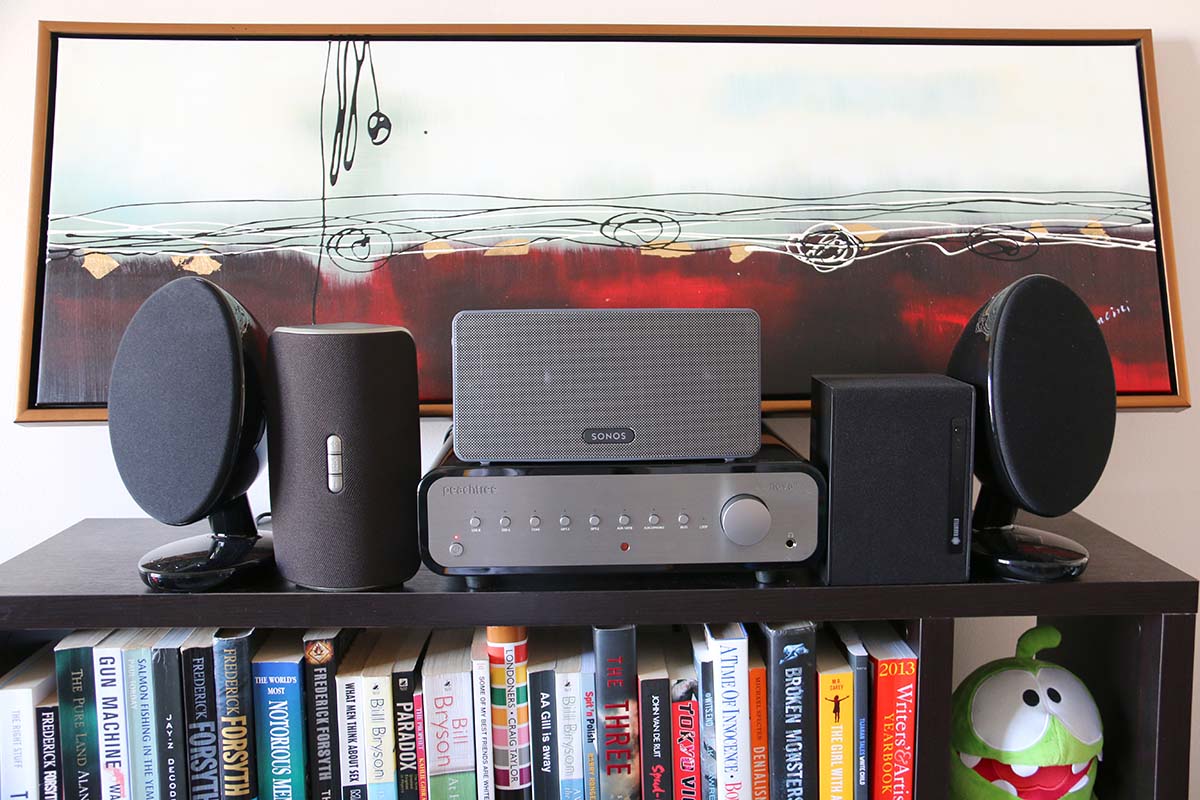 On the other hand, wireless technology has come on leaps and bounds over recent years, making them just as good as (if not better) than traditional wired speakers. Modern-day wireless systems use advanced technologies such as Bluetooth and Wi-Fi connections which allow you to stream music without any loss of sound quality and with little chance of signal interruptions. Plus, you also get the added benefit of being able to move around freely while listening – something that can be rather difficult if you're tethered down by wires!
All things considered, it really depends on your individual needs; If you want the highest fidelity possible then wired is still going to be your best bet – but if convenience is key then go for a top-of-the-line wireless system instead.
Performance
When it comes to sound quality, wired speakers have traditionally been the go-to choice. But, with advancements in technology and a desire for convenience, wireless speakers are now giving them a real run for their money.
When considering performance of these two types of speakers, there are some key differences that should be taken into account. One of the most significant distinctions between wired and wireless speakers is amplification. Wired speakers require additional devices such as amplifiers or receivers whereas wireless models have built-in amplifiers that allow you to stream audio directly from your device. This can provide improved clarity and better overall sound quality compared to traditional wired systems. Additionally, because they don't need extra hardware, setting up a wireless speaker system requires far less work than its wired counterpart.
Another factor to consider when looking at performance is environmental impact. Wireless speakers use significantly less energy than wired ones since they don't need any external power source or hardware like amplifiers or receivers. They also often come with features such as timers which automatically switch off the speaker after a certain period of time – something not available on traditional wired units – further reducing their energy consumption and carbon footprint.
Overall, both wired and wireless speakers offer good sound quality but depending on your needs one may offer advantages over the other in terms of performance factors like amplification and environmental considerations. Ultimately, it's important to do your research before investing in either type so you get the best possible experience for your situation.
Compatibility
I'm sure you've noticed the difference between wired and wireless speakers. They both have their own advantages, but which one is better?
When deciding between wired or wireless speakers, it's important to consider compatibility, portability, and battery life.
Wireless speakers offer convenience as they can be connected to a device without any wires. This makes them easier to move around your home or take with you on-the-go. However, this convenience comes at a cost when it comes to sound quality; wireless audio signals are not always reliable and can cause interference that affects audio quality.
On the other hand, while wired speakers may require more setup time than their wireless counterparts, they often provide better sound quality due to lack of signal interference. Furthermore, wired connections don't rely on batteries or power sources so there's no need to worry about running out of juice during an event or gathering.
Ultimately, it all depends on what kind of experience you're looking for: if sound quality is essential then wired options should be considered; however if portability and battery-life are key factors then going wireless could be ideal for you.
Convenience
Setting up:
I'm sure that wireless speakers can be easier to set up than wired speakers, since you don't have to worry about plugging it in.
But I've heard that wired speakers can actually offer better sound quality, since the sound isn't compressed like it is with wireless speakers.
Portability:
Wireless speakers are definitely more portable than their wired counterparts, since you don't have to worry about tangling cords.
But on the other hand, if you want to move your speaker around the house, wireless speakers are the way to go.
Setting Up
When it comes to convenience, setting up wireless speakers is definitely the way to go! Not having to worry about cables and cords makes things a lot simpler.
Plus, you don't have to spend extra money buying additional equipment or hiring someone else to set them up for you. Wireless speakers are also more cost-effective than wired ones since they eliminate the need for any extra parts.
And their portability means that you can take your music anywhere with you – from one room to another or even outside if needed.
All in all, wireless speakers make listening easier and hassle free so that you can enjoy your favorite tunes whenever you want.
Portability
One of the biggest benefits of wireless speakers is their portability. You can easily move them around your home or take them outside for a barbecue, picnic, or party.
That means you don't have to worry about taking up valuable space in one room or worrying about setting up multiple systems. Plus, with no set-up time and no installation cost, they are an incredibly convenient way to enjoy music anywhere.
And since they're so small and lightweight, you can even bring them on vacation without much hassle.
All in all, wireless speakers make it easy to listen to your favorite songs wherever life takes you!
Potential Drawbacks
I personally believe that wireless speakers do not quite match up to wired speakers in terms of sound quality. While they may be more convenient and easier to use, I think their signal strength is weaker than a traditional speaker setup with wires. In addition, the fact that they are connected wirelessly can lead to disruptions or interference from other devices in your home.
Of course there will always be certain cases where wireless speakers outperform wired ones, but this isn't something you should generally expect. The lack of cables makes them easy to move around and set up quickly, as well as allowing you to place them wherever you want without worrying about having long cable runs between the source and the speakers.
However, these benefits don't necessarily make up for potential drawbacks such as weak audio performance due to signal loss over distance. Overall, while wireless speakers offer convenience and ease of use, it's difficult for them to compete with the superior sound quality of wired speakers. They might work just fine in some scenarios but when it comes down to pure performance, it's hard for them to beat out what you get from a dedicated stereo system with wires running through your house.
Frequently Asked Questions
How Much Do Wireless Speakers Usually Cost?
When it comes to wireless speakers, the cost can vary quite a bit.
Some models come with basic sound quality and bluetooth connectivity for as little as $20 or less, while more sophisticated ones with better sound quality and enhanced Bluetooth range may go up to several hundred dollars.
It really depends on what kind of features you're looking for and how much you're willing to spend.
Are Wireless Speakers Difficult To Set Up?
Setting up wireless speakers isn't too difficult, and it's worth the effort for their sound quality.
The biggest challenge is usually the bluetooth pairing – connecting your device to the speaker wirelessly.
If you get stuck, there are plenty of tutorials online that can help guide you through the process step-by-step.
Once connected, you'll be able to enjoy high-quality audio without needing to drag a physical cable around with you everywhere!
What Is The Range Of A Wireless Speaker?
If you're looking to add some music to your life without having to worry about wires, then wireless speakers are the way to go.
But one of the most important things to consider is what their range is like.
Generally speaking, a good quality speaker should have around 30 feet of bluetooth compatibility with no interference in sound quality.
If that's not enough for your needs, you can always look into getting a more powerful set up.
Is It Possible To Connect Multiple Wireless Speakers Together?
Yes, it is totally possible to connect multiple wireless speakers together! This can be especially convenient when you want great sound quality in a larger space.
Not only does this provide portability and convenience, but the sound quality won't suffer either – with no wires running between them, each speaker will still maintain its own independent connection for crisp and clean audio.
Plus, since they don't need to be plugged into an outlet, set-up is easy too.
How Often Do Wireless Speakers Need To Be Recharged?
When it comes to wireless speakers, the battery life and signal strength are two important factors to consider.
Generally speaking, most wireless speakers need to be recharged anywhere from every 4-8 hours depending on how loud you're playing your music and other sound sources.
The best way to tell if your speaker needs a recharge is by checking the LED indicator lights located near the power source or USB port.
If these lights indicate that your speaker's battery is running low then it's time for a recharge!
Conclusion
In conclusion, it really comes down to personal preference when deciding between wired and wireless speakers. If you're looking for convenience and portability, then a wireless speaker is probably the better option.
However, if sound quality is your main priority, then a wired speaker might be more suitable. Ultimately it's up to you which one you choose; just make sure that whatever product you go with fits both your budget and meets all of your audio requirements.
I personally prefer wireless speakers because they provide great sound quality without having to worry about cords or cables getting in my way.